Fly fishing in Lodges in Alaska, Brazil, British Columbia, Mongolia, Bahamas, and Montana
Sweetwater Travel Company is located in Livingston, Montana. It was founded by the three Vermillion brothers, Dan, Jeff and Pat and Ron Meek 1995 to build and manage a best of class fly fishing lodges around the world. The "travel" component of the name was to reflect the Vermillion's interest in building a booking company run by fishermen to help anglers make knowledgeable choices to insure their fishing vacations were as good as they could be.

After 15 years in the business traveling to remote countries around the world, Sweetwater Travel Company has helped build and create some of the best known lodges in the business. These include the Royal Amazon Lodge in Brazil, Copper River and Royal Coachman Lodge in Alaska, the Lower Dean River Lodge, Steelhead Valhalla Lodge and Suskeena Lodge in British Columbia, Mangrove Cay Club in the Bahamas, the Harrison House in Montana and the Taimen operations in Mongolia. In all cases the lodges reflect a commitment to providing the best fishing possible for that particular species. As an outfitting company, we understand better than anyone in the booking agent business, that choosing the right outfitter is the single most critical decision to planning a fly fishing vacation.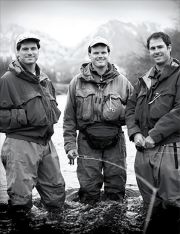 When you call Sweetwater for a trip you will helped by one of the Vermillion brothers, Ron Meek or Scott Schumacher. All of them have traveled, guided, managed and shared ownership in fishing camps in
Alaska
,
Brazil
, Venezuela, Chile, Russia,
Montana
,
New Zealand
,
British Columbia
,
Mongolia
,
French Polynesia
,
Argentina,
and a number of other international destinations.
In addition to our fly fishing vacation planning services and our management/ownership in Sweetwater Lodges, Sweetwater Travel is part of a guide network that will help you talk about your upcoming trip and tackle needs with someone who has been to or guided the destination that we have recommended. Quite often this will be one of your guides on your upcoming trip. It is a nice way to begin a friendship with your guide before the fly fishing vacation.
We thank you in advance for using our company or considering our services. Don't hesitate to call or email. We look forward to fishing with you.
Toll free: 1.888.347.4286
or email
fish

@sweetwatertravel.com
Featured Destinations
Agua Boa Amazon Lodge
Formerly known as the Royal Amazon Lodge, the Agua Boa Amazon Lodge is located on a small clear water tributary of the Amazon perfectly suited for peacock bass. The Agua Boa is a crystal clear with a white sand bottom. Imagine a small river flanked by Varzea flood forest and Gallery forests still in pristine shape with all of its great wildness still intact.
French Polynesia
French Polynesia, Tahiti, the South Pacific – all three terms are synonymous beautiful, white sand with images of beaches set along an endless sea of vitreous blue water.
The Copper River Lodge
The Copper River Lodge specializes in Alaska rainbow trout fly fishing in the famous Iliamna region. The Copper River is one of the premier Wild Rainbow Trout Rivers in Alaska. The state of Alaska has designated it a "Trophy Rainbow River" and regulated to "Fly Fishing Only; Catch and Release".
A Few of our popular Fly Fishing destinations

Sweetwater Travel pioneered Taimen fishing in Mongolia. After 16
successful seasons, and hundreds of happy fishermen, Mongolia remains one of the most unique fly fishing destinations in the world.
To book a trip with us, call
888.347.4286
or email
fish@sweetwatertravel.com
.
We look forward to fishing with you.